Eastern Tabletop is known throughout the foodservice industry as a sleek, modern, and eye-catching product manufacturer. From chafers, to risers, to mobile bars and HUBs, Eastern has every customer covered with all their hospitality and foodservice needs.

One of Eastern's most creative and innovative products is the HUB. A mobile action station that "performs 100 [genius] functions. The HUB constantly updates, so you are always ahead of trends and moving forward" (Eastern Tabletop).
Some functions include a mobile bar, plain topped tiles, raised ice bin, butcher blocks, a hot pot, and griddles. There are omelet stations, square cooking inductions, plate warmers, and much more.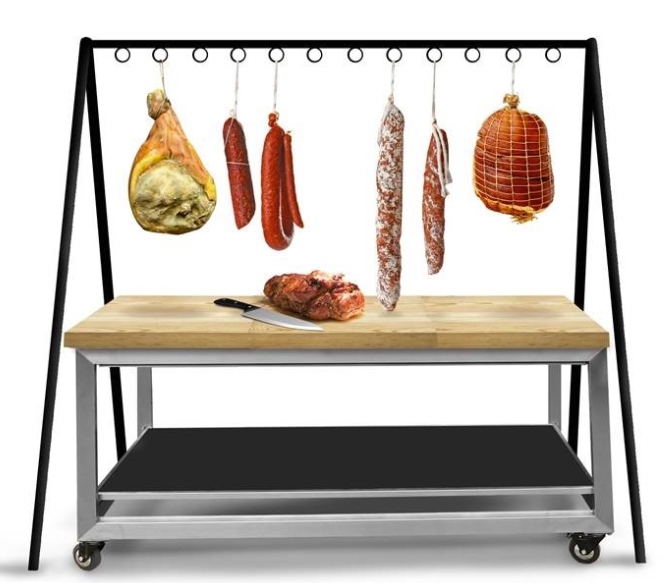 Accessories include portable batteries, heat lamps, flameless heating units (EcoBurner), chafers, marmites, space-saving tile connectors, a collapsible overhead canopy, frost top tiles, tabletop meat hanger, and even a sushi display.
The HUB is the perfect piece to satisfy all your catering needs for years to come. This is a great way to watch your ROI increase tenfold by investing in a "one-time purchase that lasts a lifetime [with its] timeless design and performance."
If you need storage, the HUB collapses down to 7″. Making it an easily stored addition to your event, catering, hotel, or back-of-the-house space. The HUB has various storage items that can be added onto your design by using corner and storage carts, tile holding racks, and dust covers.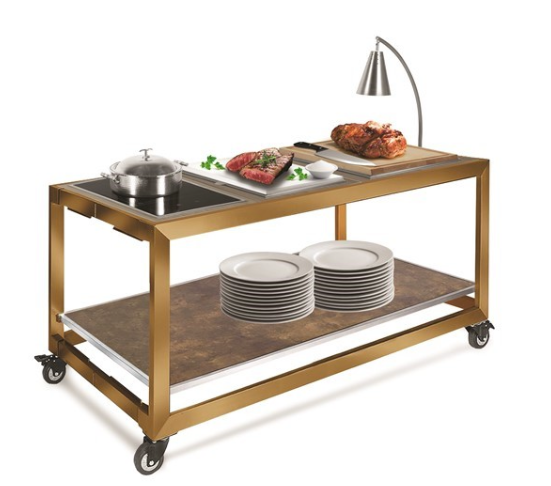 If you are looking for an eye-catching design, Eastern has multiple options ranging from screen printed applique, colorful vinyl panels, or XYLO coating that can be applied to most items in the HUB unit.
Screen printing is a custom screen-printed applique that easily attaches and peels off your existing panels. If you do not have the image you're looking for, Eastern has a complete library of stock photos available. Eastern can also customize with your image or logo.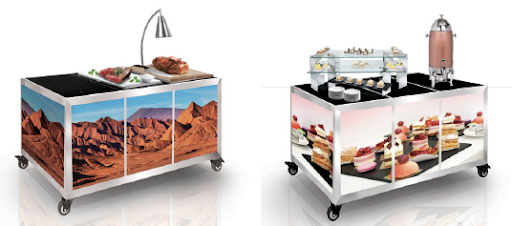 Vinyl panels are also available for a customized look, with 44 colors and patterns available with anti-microbial finishes. Easily clicks on and off providing flexibility to dress up your HUB with the color of your choice.
If you are looking for a creative use of color in your facility, XYLO coating is the way to go. XYLO coating is an anti-microbial coating that is applied to the HUB frame. Available in black, copper, bronze, or any other color you can dream up. The only requirement for this addition is the Pantone color.
Another great way to use a HUB is to create a mobile Bar Kit. With this HUB configuration, you can get a frame, drop-in sink, stainless steel tile, speed rails, a HUB bar top, and a bottom shelf for storage. Using the Bar Kit, you can take your bar anywhere in your building or grounds.
Looking for a way to see this for yourself? Take a look at the HUB configurator. This configurator allows you to build the best design that suits your needs and to see it in real-time, Eastern HUB Configurator.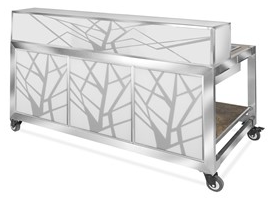 The Hub Buffet Configurator on our website will enable you to design the buffet of your dreams, from cooktops to finishes.
"The HUB Buffet System is the whole package. With options that never end from color to function to style to shape to size, the HUB never runs out of uses" (Eastern Tabletop).
Sources: