Last weekend, we held our 6th Tom Greenwald Memorial Golf Outing in Dublin, Ohio. We do this in honor of Melissa Greenwald's dad who held a highly anticipated, annual, customer appreciation golf-outing for many years. Following in his tradition, we host our manufacturers on Friday night for a delicious meal, followed by some fun, and then met them and our dealer customers for 18 holes of non-stop golf debauchery on Saturday morning. Join us for a recap of this fantastically fun weekend!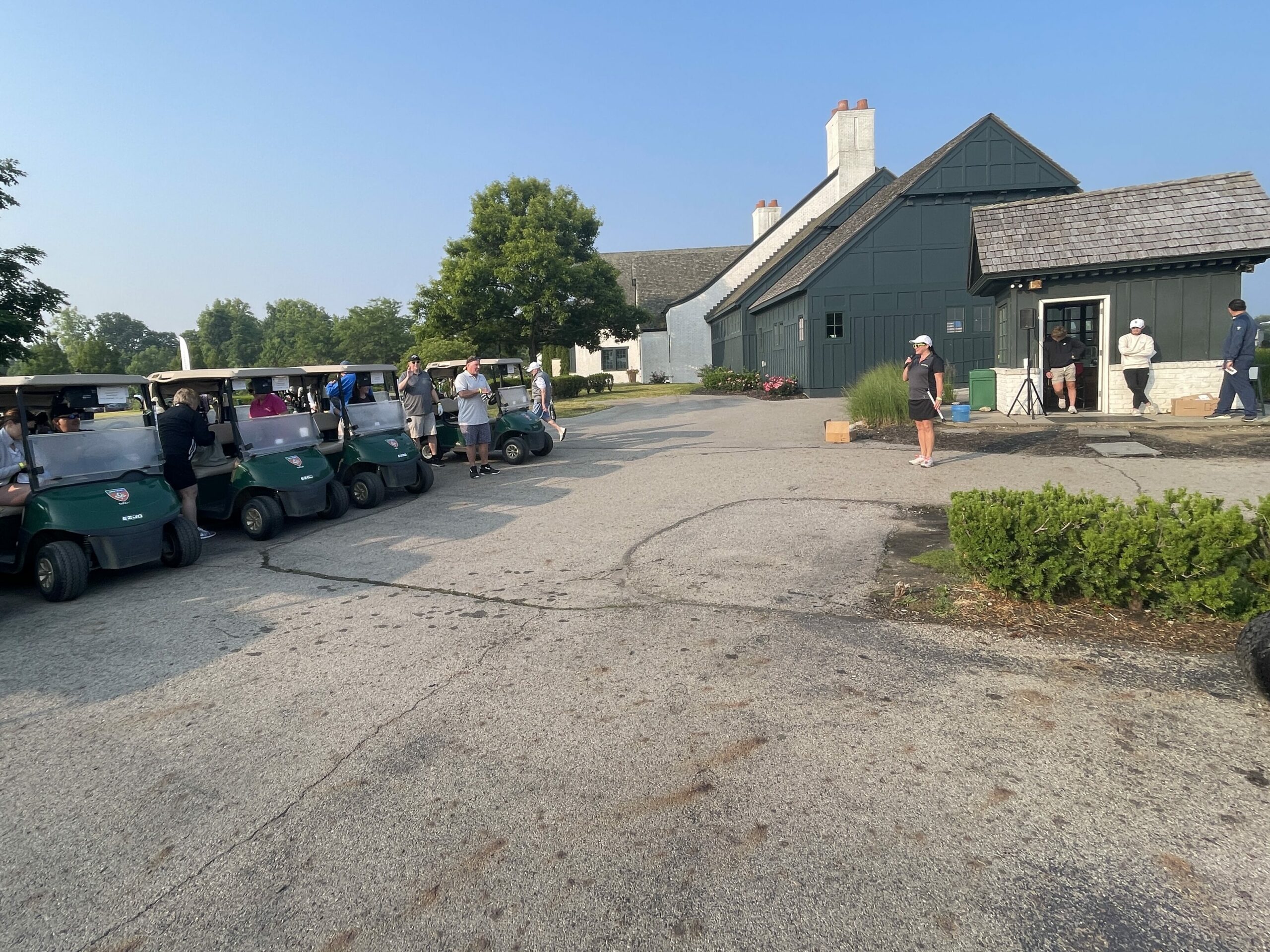 Friday Night Fun
We had so much fun while out on the town on Friday! We started the evening at the AC Hotel in Bridge Park's swanky lobby bar. After that, we crossed the BEAUTIFUL pedestrian bridge to The Avenue!
We drank, we laughed, and we feasted! Steaks were all around the table, perfectly paired with yummy cocktails. We had so many wonderful friends around the table; Paula from TableCraft and Anita from Mundial also attended – we had so much fun with our factories!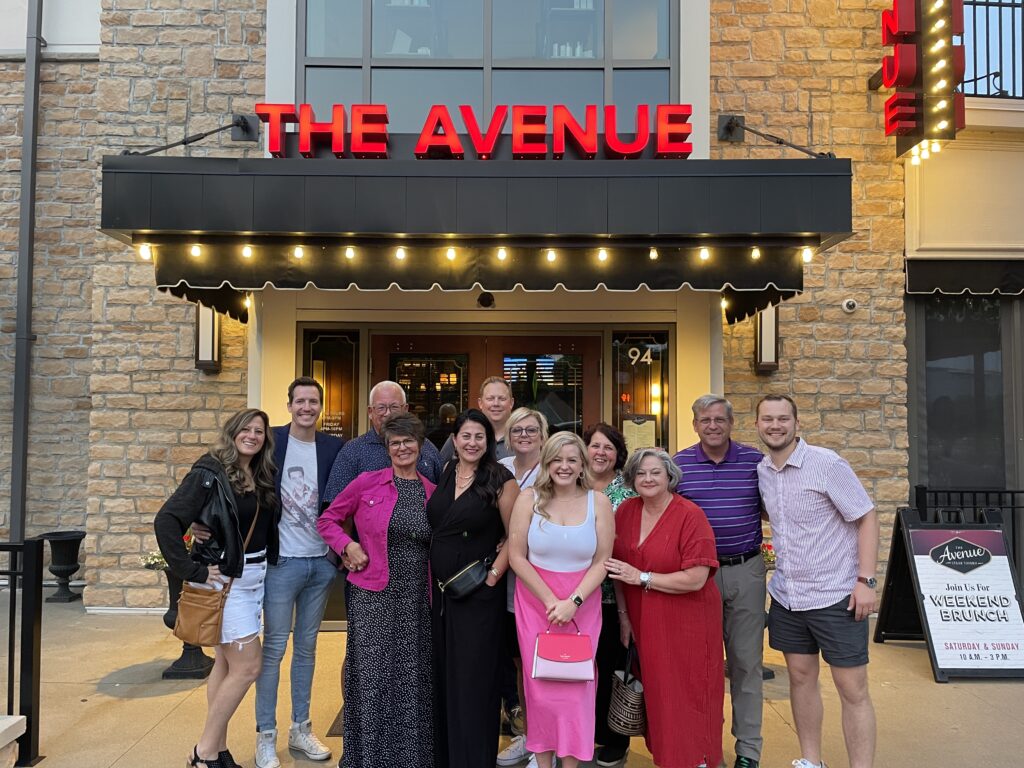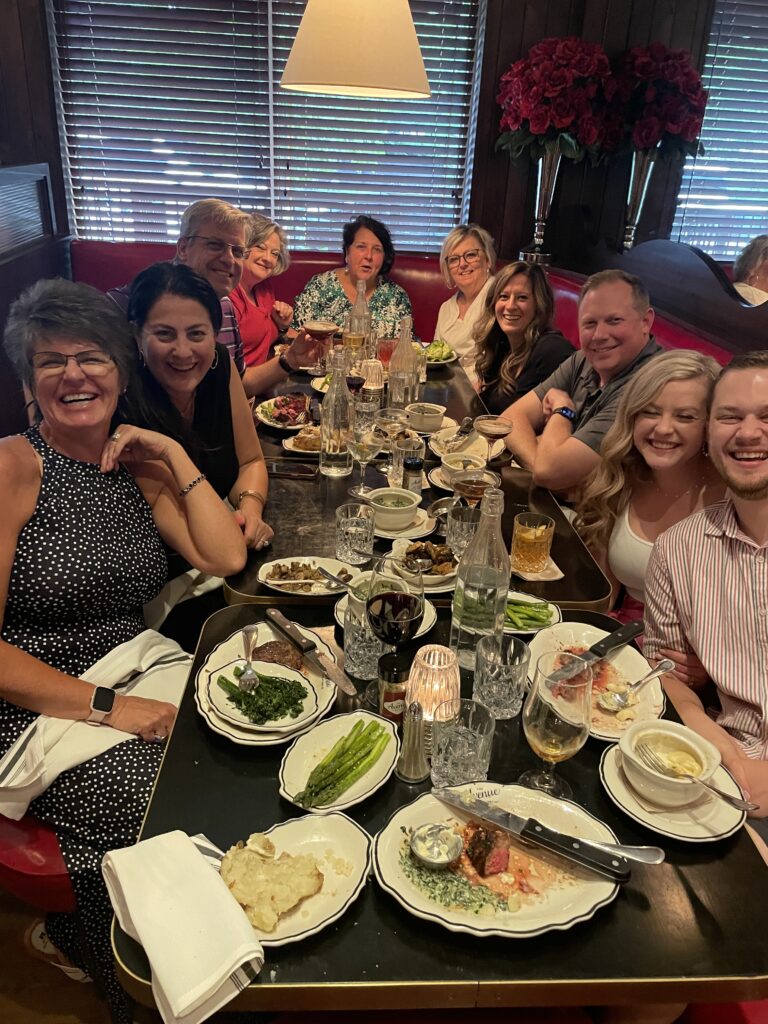 During dinner, Kate had her first old-fashioned ever! She loved it. Michelle had "the worlds-best cheesecake," and Melissa's favorite dessert of the night was the cobbler, or was it the dirty martinis?
We had the best time! After dinner, we returned across the bridge to The Roosevelt Room for drinks at their outdoor space. We decided to end the night at Pins, playing bocce ball and drinking cocktails with popsicles in them – shoutout to the SCRUMPTIOUS "Hulk-Hogan" at Pins. If you ever need a fun summer cocktail while you're there, look no further than the yummy lemonade-y 12oz goodness.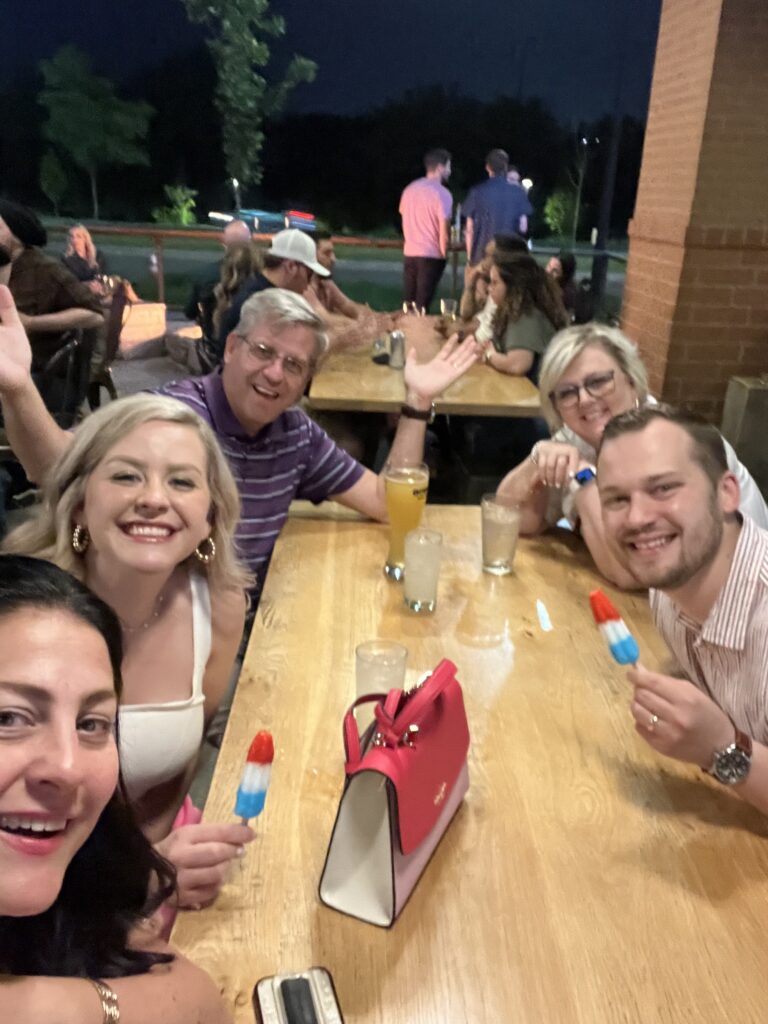 Saturday Shotgun
We had a tee-rific time riding around at The Golf Club of Dublin. The teams certainly par-tee'd with their pairings, and we learned that Golf Outing days are our favorite days of the year, by par! Everyone on the course was outfitted with Greenwald Golf umbrellas and custom GSM sunglasses to start their morning.
Golf started at 8am with a shotgun start. We had eight foursomes, and they were the stars of the day. We rolled out the "green carpet" for our superstar players.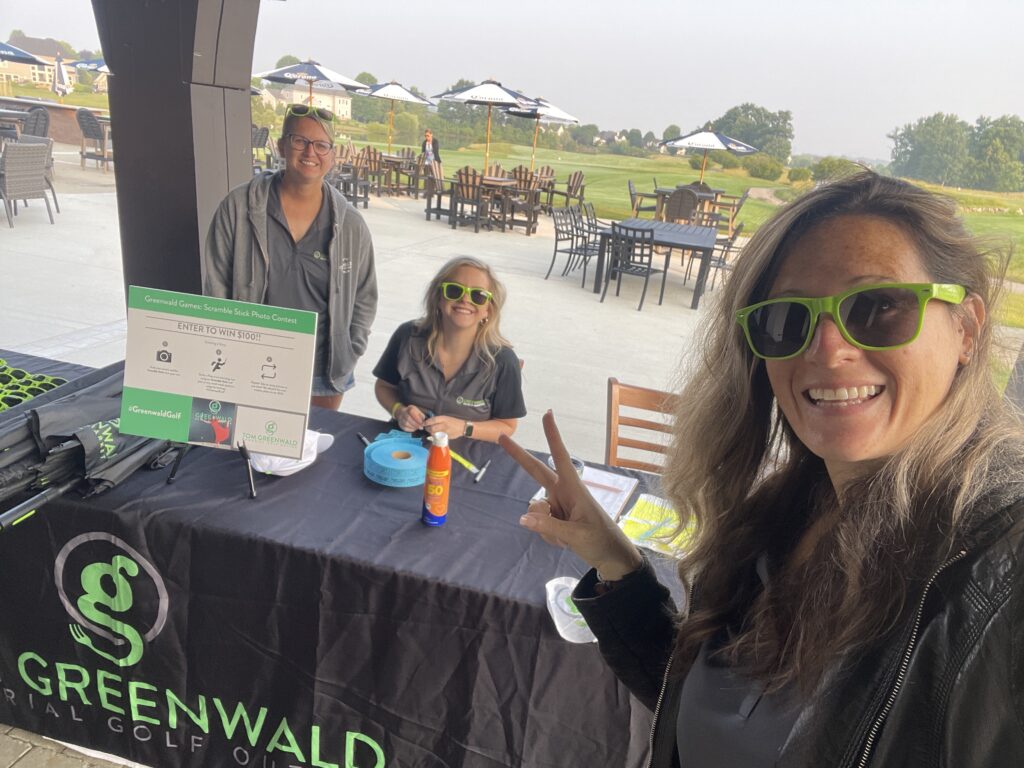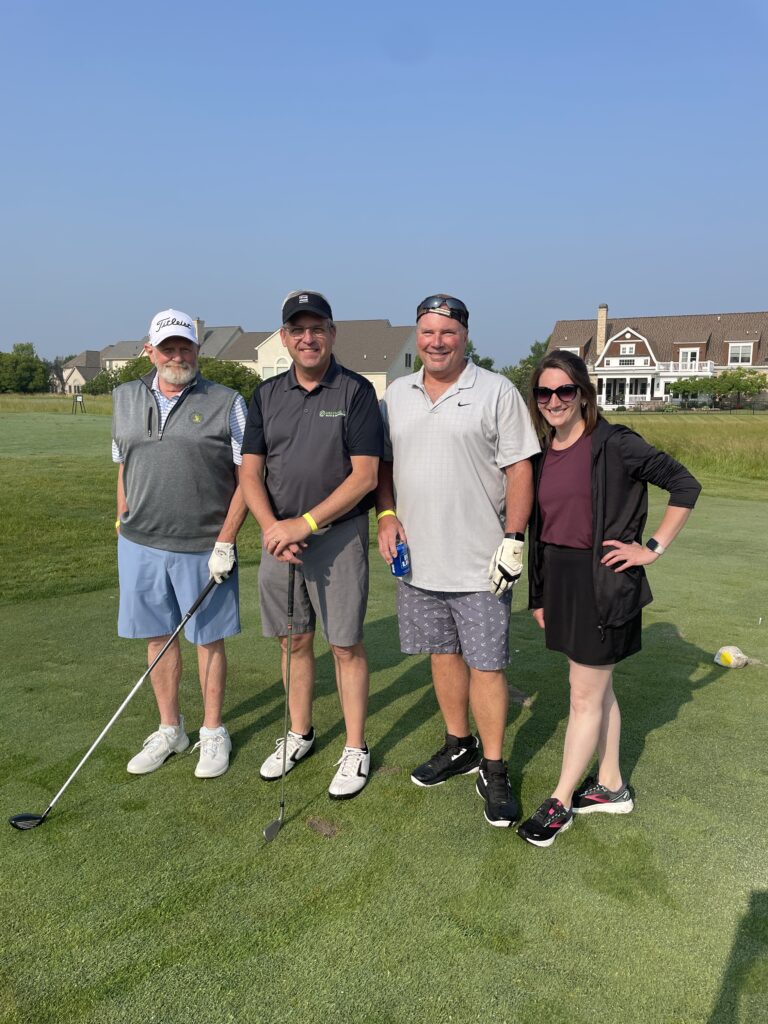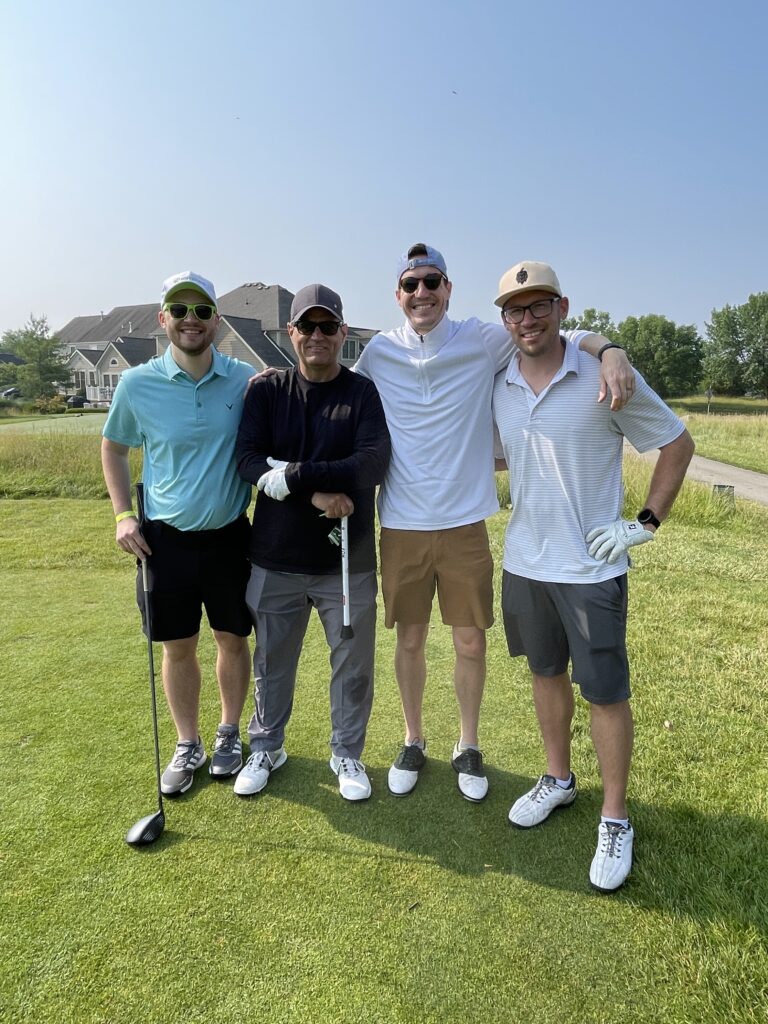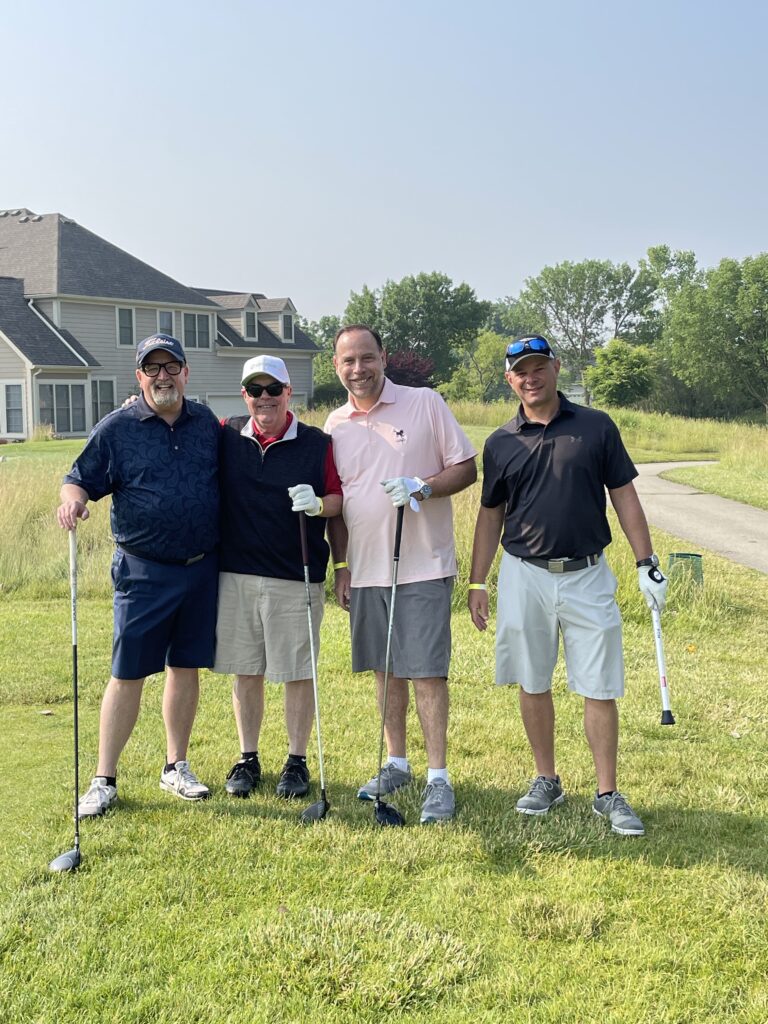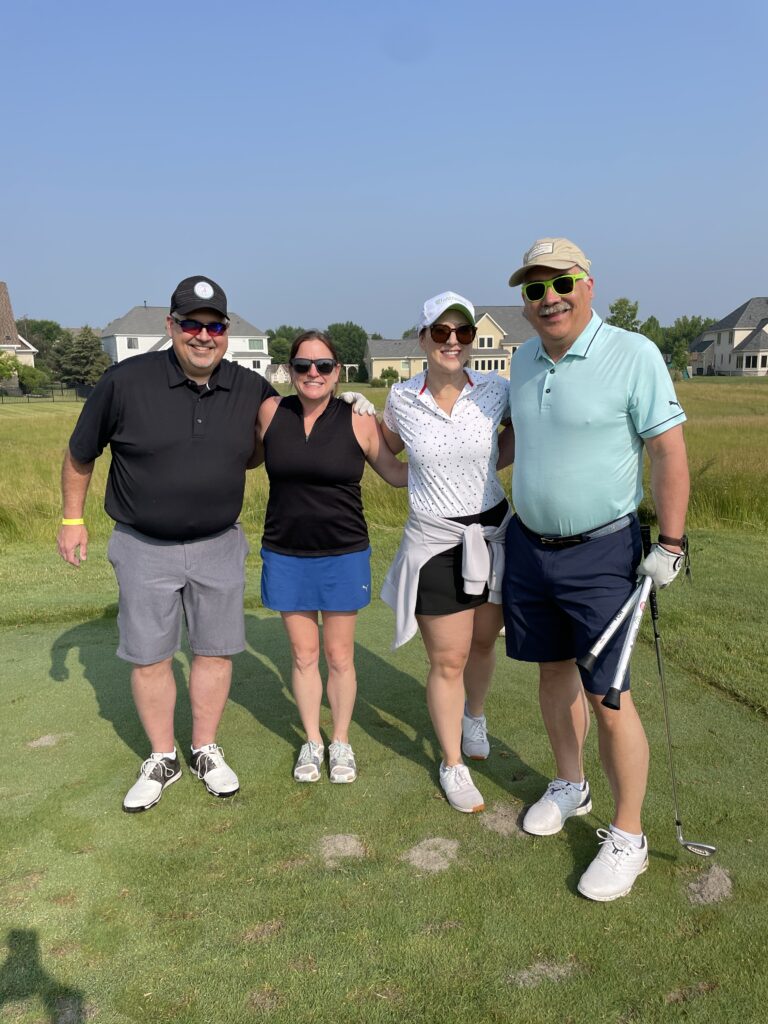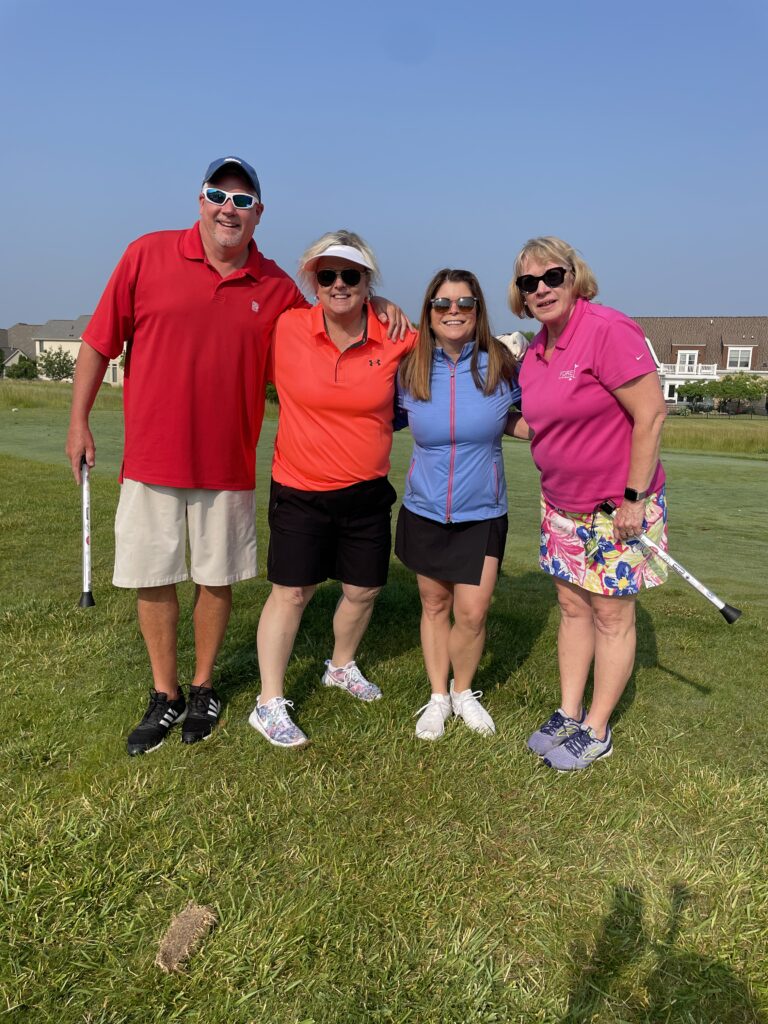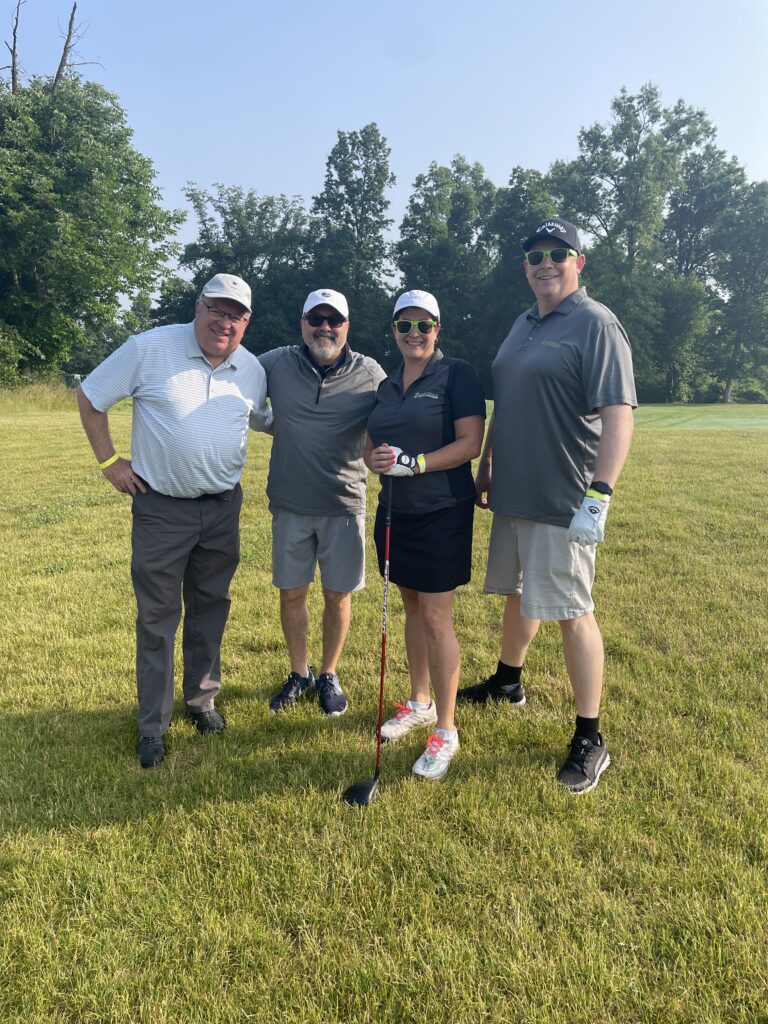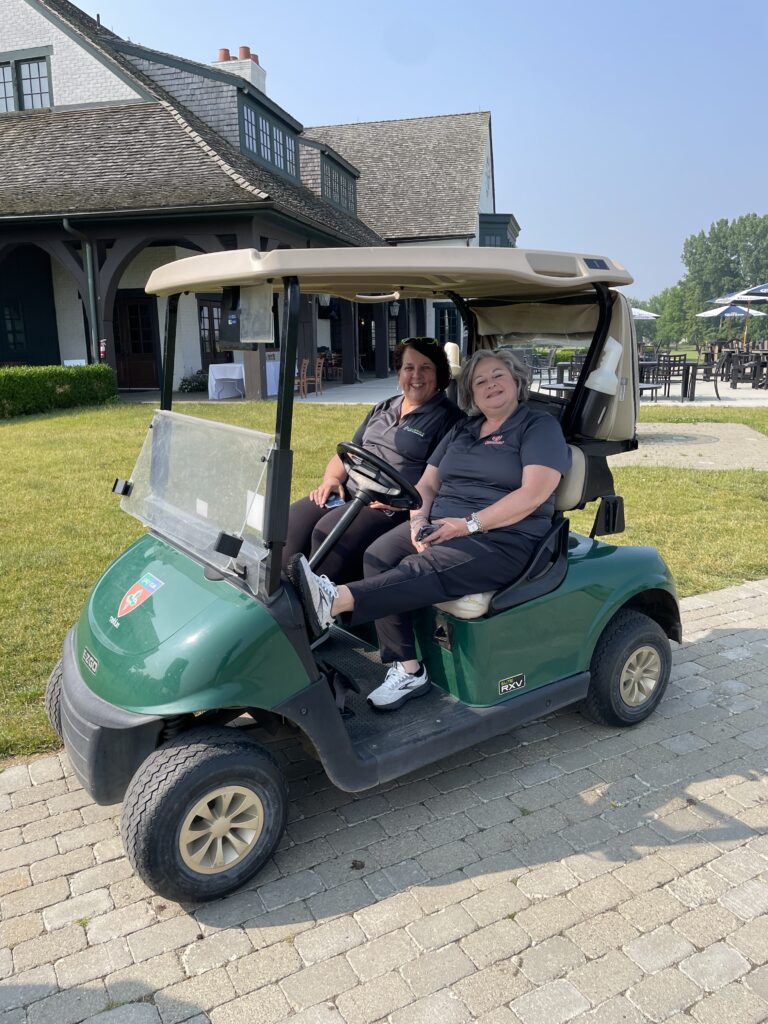 Scramble Stick, Proximity Prizes, and Tournament Results
The mulligan fairy visited the pairings and gifted an extra shot in exchange for a funny group picture utilizing our golf Scramble Stick!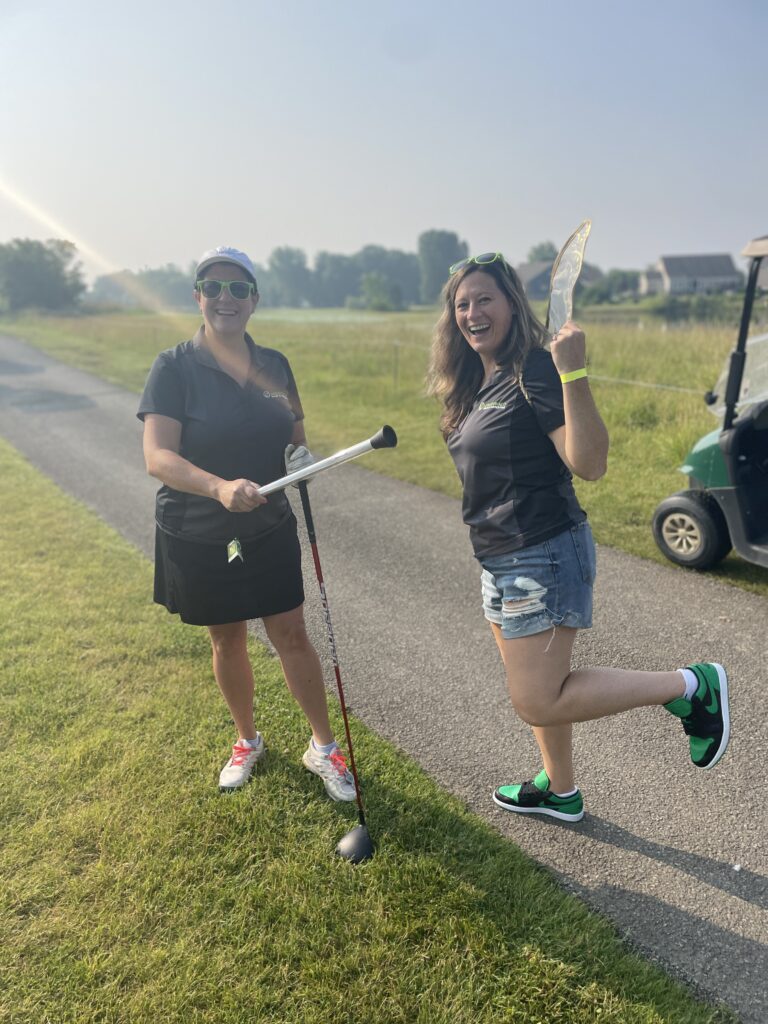 The Scramble Stick is golf's most-awesome invention that can be used to pick up a not-selected scramble shot with its suction cup end. We fill it with a shout-out to our amazing sponsors for all the players to see. And, because we love to get social, we then have a photo contest to see who can get the most creative with a pose (while trying to "keep it clean," which is actually the hardest part). Our Scramble Stick Photo Winners were also the First-place winners of the tourney! This lucky and talented group was comprised of Kevin Simmons, Matt Brown, Scott Leathley, and Zach Willliams. And, to top it off, two of this foursome's players won proximity prizes: Matt Brown (Closest to the Pin) and Kevin Simmons (Longest Drive). Talk about a talented team!!
Not to be outdone, Melissa Greenwald took a proximity prize for "Longest Drive – Women," and her husband, Daniel Skinner, won for "Longest Putt." Their team, with John Sweeney and Mark Corbitt, also won Second-place overall. Melissa was so proud to FINALLY take home a trophy after 18 years of trying (between her dad's and her outings).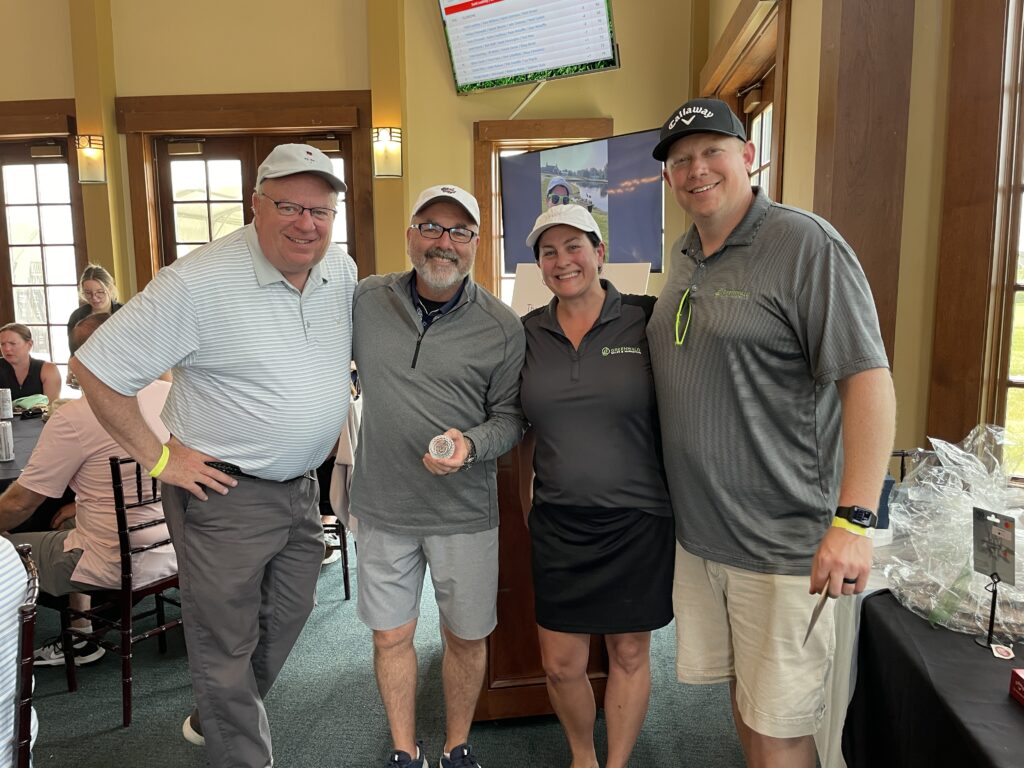 Our third-place winners were Dave Mehaffie (wearing a shirt purchased by Tom Greenwald), Paula O'Connel, Rosie Mehaffie, and Kathy Cianflona. No doubt, this barefoot team – yes, it's true! – had a great time.
Thanks to All
Thank you to everyone who attended and participated in the outing, and a HUGE thank you to our sponsors: Waring Commercial, Front of the House, TableCraft, Eastern Tabletop, Arc Cardinal, Vertex, Churchill, Mundial, ChefMaster, Chilewich, Araven, On The Table, Comark, Diversified Ceramics, Elite Global, Everidge, CSL, and Zafferano. This truly is our favorite day of the year! We look forward to hosting you again next year.